Long before he participated in the Salman Khan-hosted reality competition Bigg Boss 16, MC Stan, a rising star in the music industry, made headlines for his love of all things pricey. The teenage rapper became famous on social media during one of his Instagram live sessions while he was showing off his "Rs 80 Hazaar Ke Shoes." MC Stan has been embracing the world of luxury with open arms, wearing everything from huge gold chains and diamond-encrusted watches to flashy fur jackets and eye-catching designer sneakers. Sania Mirza has, in fact, added two more lavish items, totaling Rs. 1.21 lakhs, to MC Stan's collection.
For the uninitiated, MC and Sania have recently been photographed interacting and partying. As an older sister, Sania then showered MC Stan with gifts costing thousands of dollars. Stan just uploaded a snapshot of some items he received from Sania on his verified social media account. Black Nike sneakers and Balenciaga sunglasses are also included. Both items are expected to cost about Rs. 1.21 lakhs in total.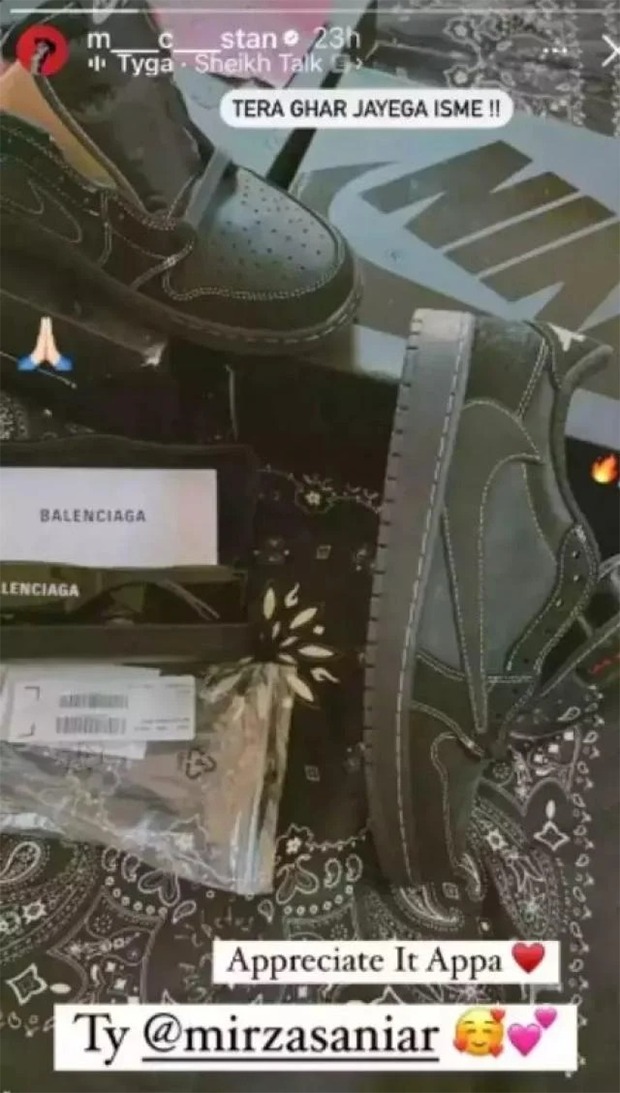 The 23-year-old rapper added his catchphrase, "Tera ghar jayega isme! ", to his message of appreciation, along with the words, "Appreciate it Appa, ty @mirzasaniar."
On the professional front, he announced his nationwide Hasti Ka Basti tour soon after taking home the Bigg Boss 16 trophy. His concert in Delhi on May 7 will bring it to a close. It started on March 3 in his hometown of Pune. He has already given performances in Pune, Mumbai, Bengaluru, Hyderabad, and Indore, and he has concerts planned for Nagpur, Ahmedabad, Jaipur, Kolkata, and Delhi in the near future.